Vernon Friendship Centre

(Established since May 5th 1977 as a non profit society)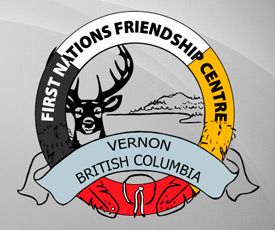 Welcome! Wai!

First Nations Friendship Centre is situated in the beautiful North Okanagan Valley, the territory of the Okanagan Nation (Syilx people).
"Since time immemorial, the history of the Okanagan began, long before the arrival of the Europeans. We are the Syilx-speaking people – the original inhabitants of a vast and beautiful territory that encompasses forests, grasslands, lakes and desert. For thousands of years, the Okanagan people were self-reliant and well provided for through their own ingenuity and use of the land and nature. We lived united as a nation with a while economy, travelling the breadth and depth of our territory, hunting and fishing, growing and harvesting, crafting and trading to meet our needs." Okanagan Nation Alliance.
First Nations Friendship Centre Society (FNFCS) has been in existence for 38 years since its inception in 1977 as the United Native Nations Friendship Society. FNFCS has grown from humble beginnings into a recognized and credible organization in the effective delivery of a range of social services for urban Aboriginal people. We endeavor to assist whoever walks in the door needing help.
The Centre is a place where people can meet for social, recreational, cultural and education activities. There are diverse programs that offer support and many opportunities for prevention, counselling, prenatal care, early childhood development, youth and elder programs, housing for young people (19 – 30 years), and employment and training programs.
We continue to advocate and embrace our right Aboriginal heritage through our various cultural events and activities and in particular our season events throughout the year.
FNFCS continues to support the overall Friendship Centre Movement, within British Columbia and Canada, which is built upon community support, trust, strong leadership, tradition and faith. The Friendship Centre Movement is mandated to improve the quality of life for Aboriginal people through Canada. The BC Aboriginal Association of Friendship Centres is the umbrella association for the 25 Friendship Centres in British Columbia.
Vision Statement
Nationally recognized Aboriginal Friendship Centre supporting all people to be successful, balanced and contributing members of the global community
Mission Statement
To provide culturally appropriate health and social programs and services for all people
Value Statements
Respect – We honour and respect our individual and collective values and beliefs
Trustworthy – We conduct ourselves in an honest, fair and accountable fashion
Integrity – We adhere to moral and ethical principals in our joint actions and decisions
Kindness – We demonstrate devoted and unselfish concern for the health and well-being of all people